Monthly Natural Soap Memberships: Best Soap Subscription of 2022 | Soap.Club
Posted on October 27 2022

Premium Handmade Soap Bars Delivered To Your Door Every Month
You deserve the best of the best when it comes to your skin, and that's what we offer with our hand-selected brands. We know you're busy and don't have time to waste on bad bar soaps. That's why we seek only the finest brands that make high-quality products with ingredients you can pronounce.
Not only do our soaps smell fantastic and make your skin feel incredible, but they also come from brands that give back. Soap Club is about more than just great soap - it's about giving back and helping others.
If you're passionate about pampering but savvy about saving, a Soap.Club membership makes sense. With our members' monthly plans, you'll benefit from quality, convenience, and value and enjoy luxurious artisanal soaps every month.
Soap.Club is a unique community of soap lovers; members receive a range of monthly benefits and premium quality handmade soap - the really good stuff! They also access our exclusive forums where it's possible to connect with other soapers and share tips, tricks, and insights.
Table of Contents
Soap Club Membership Include The Following:
Amazing Discounts & Free Shipping
Select from over 70 premium scents
Access to exclusive luxury soaps
Access to monthly draw
Bonus Samples
Access To New Product Before Launch
Additional Benefits of A Monthly Membership To The Soap.Club
Tired of your skin feeling dry and irritated? Soap.Club is a new way to get your hands on some of the best soap in the business. We only work with brands that use natural ingredients and care about their customers. You won't find harsh chemicals or sulfates here – just soap made with love.
Every bar of soap we send out is hand-cut in small batches plus, we donate a portion of our proceeds to charity so you can feel good about using our products. Give your skin the healing feeling it deserves with Soap.Club.
They're kind to your skin and suitable for sensitive, dry, oily, or a combination of skin types.
Enriching olive oil and natural shea butter replenish and protect skin against aging and breakouts.
Moreover, our soaps weigh a generous 5.3 oz each – that's over an ounce more than standard shop-bought bars of soap.
Sign up for a subscription today! Our handmade soaps offer maximum pampering, naturally containing zero artificial ingredients.
Best Soap Subscription Box
Tired of using the same old soap that doesn't seem to make a difference? We know the feeling. That's why we've curated a selection of artisanal soaps that feel great on your skin and give back to causes you care about.
As well as being a treat you can look forward to every month, a Soap Club membership is the perfect choice if you're looking for a thoughtful gift that keeps on giving. Indulge friends or loved ones and never miss a special day with a Soap.Club subscription.
Ideal for:
Birthdays 
Mother's Day
Anniversaries 
Corporate giveaways
Housewarmings 
Sports tournament prizes
Bridal and baby showers 
Getting out of the dog house
Christmas gifts
Christmas stocking stuffers
Add it to a customizable eco-friendly gift basket
Everyone knows that one person who is challenging to buy a gift for. Soap.Club's wide range of bath and body bar soaps cater for everyone, with a range of scents to tempt both sexes as well as unisex and family-friendly options.
The perfect gift for the holidays or an extra-special Valentine's treat, women's soap subscriptions are a unique way to show someone how much you care.
WHAT IS IN OUR SOAPS?
Our natural soaps are truly crafted the old fashioned way, using only the very best, hand selected ingredients. Unlike large brand soaps, our cold pressed soap is made with ingredients you can pronounce.
QUALITY HIGHLIGHTS:
Organic Shea Butter

Aloe Vera Essential Oils

Olive Oil

Coconut Oil

Made in the USA
NATURAL EXFOLIANTS:
Coffee Grounds

Ground Oatmeal

Sea Salt
Dry skin is a massive problem in the wintertime, but it can be a year-round issue if you're not using a suitable soap. Soap Club is here to help by featuring only the best brands that make soap with natural ingredients that will soothe and heal your skin.
You deserve to feel confident and beautiful without worrying about your skin. With Soap Club, you can trust that every bar of soap we recommend is made with love and care for your skin. Shop now and start feeling better today - or, even better, sign up for a subscription!
Are Soap Subscription Boxes Worth It? Get the most from your Soap.Club membership
When you sign up for a Soap.Club membership package, you can treat yourself or others every month or use your membership creatively to really make your bar soaps and other soap products go further.
By all means, use your monthly package to indulge and unwind in the tub or the shower but take a look at our suggestions for getting maximum value from your membership:
Store your bonus soap in drawers to keep your linen smelling fresh
Great gift: Re-gift your soap to friends & family
Impress visitors by keeping spare artisanal soaps in your guest bathroom
Use Soap.Club's moisturizing handmade soaps as shaving cream or shampoo while traveling
TIPS: As for the last scraps of soap, did you know there are many ways to use these soap slivers around the home?
Rub under fingernails before gardening to avoid trapped dirt
Unstick zippers, door hinges, and drawers
Use to mark hemlines on cloth before sewing for an easy wash-off alternative to chalk
What Is Included In Soap Prescription Boxes? Pick Your Perfect Package
We are much more than a soap-of-the-month club! Whether you're looking to indulge a little or a lot, Soap.club has something to suit you. With the three Soap.Club membership or subscription plans to choose from below, it couldn't be easier to recoup, relax, recover or rejuvenate.
Monthly Plan
The Monthly Plan is perfect for people who want to have that special soap to pamper themselves. With this VIP membership, you'll receive three premium soaps per month and a 10% discount on all purchases, and your plan includes free shipping and access to the limited edition soap promotions and the monthly draw.
Quarterly Plan
With the Quarterly VIP membership, you'll receive three premium soaps monthly, a bonus limited edition soap bar and a 15% discount on all purchases. Your plan includes free shipping and access to the limited edition soap promotions and the monthly draw.
Annual Plan
With the Annual VIP membership, you'll receive three monthly premium soaps, a bonus limited edition soap bar, a bonus handcrafted soap dish, and a 20% discount on all purchases. Your plan includes free shipping and access to the limited edition soap promotions and the monthly draw.
Discover your scents of belonging at Soap.Club.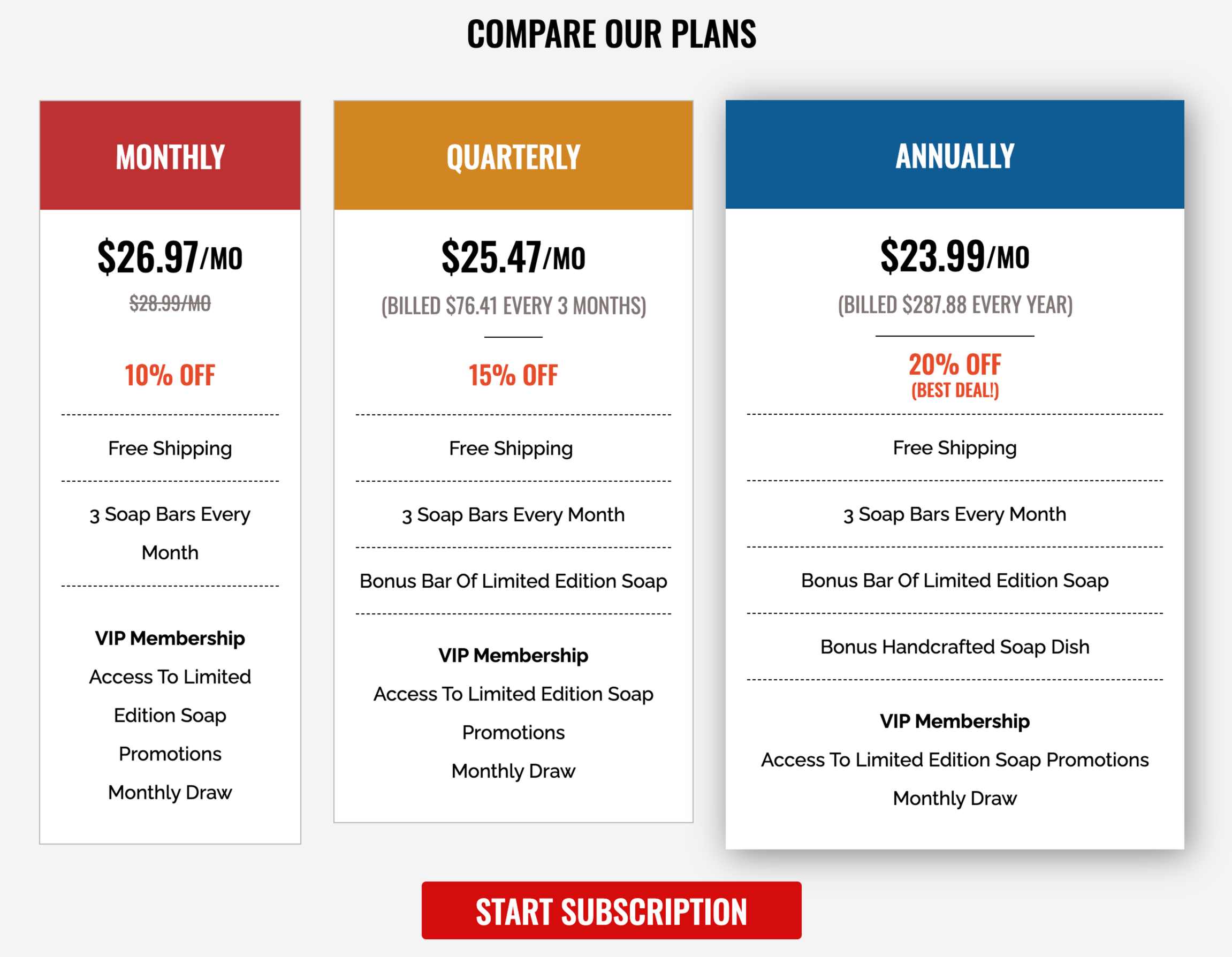 Lathering Up In Conclusion
We all want to feel confident and beautiful, and Soap.club is here to help you do that. With our soap subscription boxes, you can trust that every bar of soap we recommend is made with love and care for your skin. Shop now and start feeling better today.
For more information, contact us at soaplover@soap.club.
Please Note: Every week, Soap.Club receives incredible recipes from our members and guest soapers. Due to volume and time restraints, Soap.Club is not able to test each recipe. All recipes are to be used strictly as a guideline.
Since the recipe requires lye, it is very important to make sure you check you lye measurements. Soap.Club cannot guarantee the results and we strongly recommend that you stick to small batches at first. Please give us your feedback. We would love to hear for you.
You can learn a lot more from our natural handmade soap making blog or click on the links below.
Best Organic Soap Base: Our Complete Guide To Make Melt-and-Pour Soaps
15 Amazing Benefits of Shea Butter Soap
How To Make Pure White Natural Soap From Goat Milk Recipe
Molding Soap: The Best (And Inexpensive) Soap Molds
Top Ten Women's Natural Soap Scents
Aloe Vera Soap: A Step-By-Step Guide To Make Soap At Home
Activated Charcoal Benefits in Soap for the Skin
Natural Face Remedies for Acne Vulgaris: Part Two
7 Proven Benefits and Uses of Olive Oil Soap